Our patented medical device, called Eddie, was created exclusively to treat erectile dysfunction. We receive a lot of questions about our product and understandably so, since Eddie is a unique venture in what seems like a crowded market for ED products. We've created a unique device for ED backed by science, anatomy, and with the assistance of urologists and sex experts. Below, we'll be going over distinct features that differentiate Giddy's ED device, Eddie, from other, less effective options.
FDA Standards and Scientific Engineering
Eddie is a utility patented, FDA Registered Class II medical device specifically developed for ED. It's not a sex toy touted on television at obscure hours. Instead, the ED device was created by a team of engineers and urologists to apply pressure to veins, assisting in maintaining an erection. Unlike the outdated technology behind traditional constriction devices, Eddie was designed to leave the urethra unrestricted for more free-flowing ejaculation. It also comes with a selection of tension bands that can further customize the fit and tension of the device.
The Revolutionary "Omega" Shape
Traditional constriction rings can actually restrict blood flow from entering the penis. That's because constriction rings, or cock rings, are shaped like a perfect circle while the penis is actually shaped like an oval! Squeezing an oval-shaped object into a circular ring can cause pressure and discomfort on the sides, and can add restriction in the wrong places. Alternatively, the unique oval shape of Eddie is designed to restrict blood flow out of the penis, while still allowing the necessary blood flow into it, without obstructing the urethra. This leads to a more natural feeling and pain-free ejaculation. Each device also has enhancement ridges along the oval's edge for added female stimulation.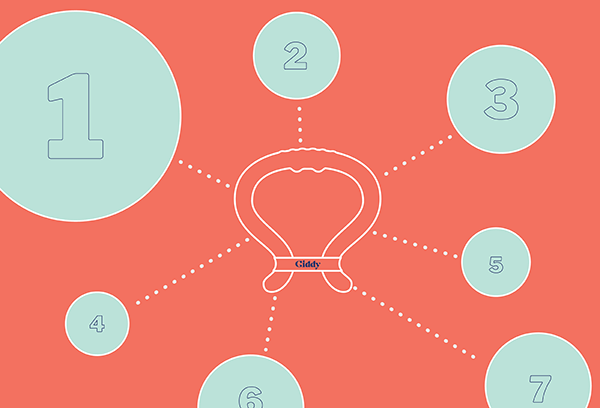 It's Latex-Free and Hypoallergenic
Because of its use around sensitive areas, Giddy created something that was body-safe if used correctly. Eddie is made of multi-layer medical-grade thermoplastic elastomer that's safe to use on all skin types. It contains no latex or PVC and it's hypoallergenic to ensure safe use for those with sensitive or allergy-prone skin. The exact material composition is a polycarbonate/ABS alloy which is coated in medical-grade proprietary thermoplastic elastomer, making each device durable and soft to the touch.
You Don't Need a Prescription
You don't need to have awkward doctor visits or get a prescription to use Eddie. ED prescriptions can cause side effects like headaches, nausea, diarrhea, even vision damage. Not to mention prescription pills can cost upwards of $1,200 every year; costs that usually aren't covered by insurance. Many times, men affected with ED are taking prescription medications for other health concerns. Adding in yet another prescription could have unwanted side effects that many couples prefer to avoid. With Eddie, there's no side effects or added cost from drugs.
Custom Sizing
Sizing for Eddie is based on penis circumference, aka girth, and the frequency of ED symptoms. Click here to find your size. Eddie is equipped with variable strength tension bands, the Comfort and Sport bands, to further optimize the fit and level of constriction. Some men might prefer more tension, while others opt for less tension. Eddie offers both. The perfect fit of your ED device is guaranteed; if you receive one and don't like the size, we'll send you a new one ASAP.
No Side Effects from ED Drugs
Prescription pills, penis pumps and cock rings can cause various side effects or physical risks. Giddy's medical device is wearable, natural, and has none of the side effects of ED medications. It's a body safe, non-invasive option for men with ED without pills or injections. Eddie does not cause any drug-induced side effects like headaches, nausea, diarrhea, vision damage, and others. When used properly, the device should not result in any harmful side effects for you or your partner.
Affordability
The average cost of ED prescription pills can be as high as $1,200 a year, while penis pumps can rack up bills of $350 or more. Eddie costs much less. We're committed to mens health and wanted our price points to reflect that commitment. Along with Eddie, each purchase also includes a personalized curriculum of educational videos in the ED Guide. We also provide free shipping for Eddie, and a money-back guarantee. If you have questions, check out our FAQ, or reach out to us for assistance at customercare@getmegiddy.com.
Legal Disclaimer: We appreciate you taking part in the discussion about sexual health and wellness. Because we include information about medical conditions and treatments, please note the following: Information provided on this site is for general informational purposes only. Any information provided here is not for the purpose of diagnosing, treating, curing, mitigating, or preventing any type of disease or medical condition. Before beginning any type of treatment regimen you should always seek the advice of your licensed healthcare professional.
And remember, if you think you have a medical emergency, call your doctor or 911 immediately.
All information on this site is provided in good-faith, however, Giddy Holdings, Inc, and its agents and employees, make no representation or warranty of any kind, express or implied, regarding the accuracy, reliability, or completeness of this content. Under no circumstances shall we assume any liability to you for any loss or damage of any kind incurred as a result of the use of this site, or the reliance on any information provided herein. Any application of the material provided here is at the reader's sole discretion and responsibility.