If your partner isn't getting erections as easily or frequently as he once was, it's normal to have feelings of guilt, or disappointment. But it's important to remember a few things; erectile dysfunction is common and treatable, his ED is not your fault, and your sex life is always evolving.
It's common for couples to enter into a sex routine that may work for a little while, but then becomes too familiar and can lose its excitement. During these times it can be helpful to approach sex with a sense of playfulness and curiosity, and explore new and exciting ways to be intimate with your partner. Read on to learn four tips for having satisfying sex with ED.
Sex starts in the mind
If your partner is experiencing erectile dysfunction, or ED, it doesn't mean that they aren't turned on. Our turn-ons and arousal live mostly in our minds. Where is your mind when you're in the mood? Are you imagining a sexual fantasy or turn-on? Sharing your erotic thoughts with your partner can introduce new areas of physicality and intimacy.
If you aren't normally paying attention to the erotic stories in your mind, start by thinking about them on your own. It can intensify your desire and enthusiasm. Consider writing down some of your reoccurring fantasies to explore with your partner.
Role-playing is a popular method of restoring sexual excitement. Often times role-playing includes notes of dominance or submission. Consider adding role play or "dirty talk" as a way to stimulate your erotic mind and introduce something new.
Sex and the senses
Optimizing your physical surroundings can make a big difference in your sex life. There are simple things one can do to make sexual experiences more exciting and comfortable; dimming the lights, using pillows, wearing socks, lighting candles, or even simple things like closing the door, putting pets in a different room, having a drink nearby; these adjustments can make sexual experiences more primed for enjoyment.
It's always helpful to make sure you and your partner are mutually meeting basic requirements for one another like fresh breath, nice scent, general cleanliness, trimmed hair, trimmed fingernails, etc.
Talk about sex and ED with your partner
It's crucial that partners communicate clearly with each other when navigating ED symptoms and exploring new ways to be sexual and boost excitement. Remember that ED is highly treatable in terms of both the physical and mental factors, and is certainly not the end of your sex life.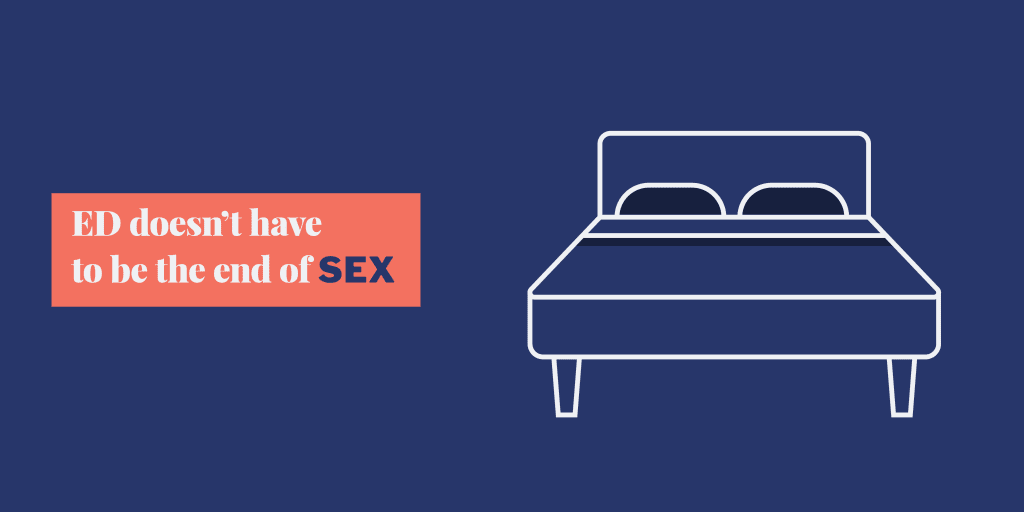 Erectile dysfunction is not the end of your sex life.
Express your desire for your partner. Give positive feedback. Let them know all of the ways that they bring you physical enjoyment, being honest about how you like to be touched, or spoken to.
Communication will be the foundation of a solid relationship, including sex. One of the greatest skills you can have as a lover in the bedroom and as a partner in life is to be open to learning about yourself and your partner with an open heart and mind.
Giddy is a natural way to approach ED
In addition to being vocal with your partner and having the courage to try new things, there are wearable medical devices, like Giddy, that can assist with the physical symptoms of ED and restore excitement to your sex life.Giddy is a new, FDA registered Class II medical device designed specifically to promote penile rigidity. It was designed by urologists, engineers, and sex experts to help men maintain erections so they can enjoy healthy sex and ejaculation with their partners and by themselves. Giddy is usually more body-safe, affordable, and doesn't have the side effects of prescription ED drugs. It could very well be the spark of sex and excitement you're missing with your partner.