Reports show that 12 million students under the age of 25 will attend college this fall. Many of these young adults are leaving the family home for the first time, leaving behind mothers and fathers now facing what can be one of the most emotional and exciting chapters of parenthood: the empty nest. However, as exciting as this new change can be, it sometimes leads to empty nest syndrome. Read on to learn about the symptoms of empty nest syndrome and learn how Giddy can help.
Empty nest syndrome
"Empty nest syndrome" refers to the depression and loneliness parents feel when their children leave home to start school or work, or begin their adult lives. While it's not a clinical condition, empty nest syndrome can be an extremely emotional and intense transition for many parents.
While it can be upsetting, an empty nest is not a bad thing. On the contrary, without children in the home, parents can restore their roles as husbands and wives, and reclaim the bond in their relationship.
An empty house is great for sex
An empty house is an opportunity for more exciting, fulfilling sex. With the children gone, parents are free to have sex without limits or concerns about privacy. Be as loud as you want; talk dirty; be vocal about what you want and what you like. Tip: Research shows that female orgasms are the most frequent and intense around age 40. Enjoying loud and proud orgasms is an enjoyable part of being an empty-nester.
Additionally, you're free to have sex in any room, on any surface. Exploring new places to have sex can introduce new physical sensations, and help you discover new sexual preferences. Taking sex out of the bedroom can redefine your sex entirely.
Having sex in new places can increase excitement and pleasure. Tip: Even the ability to walk around the house naked can spark moments of passion and intimacy. Live out your sexual fantasies, play dress-up, role-play; no matter how creative or unique. The empty house is your free space to have fun with sex, try new things, and reconnect with your partner.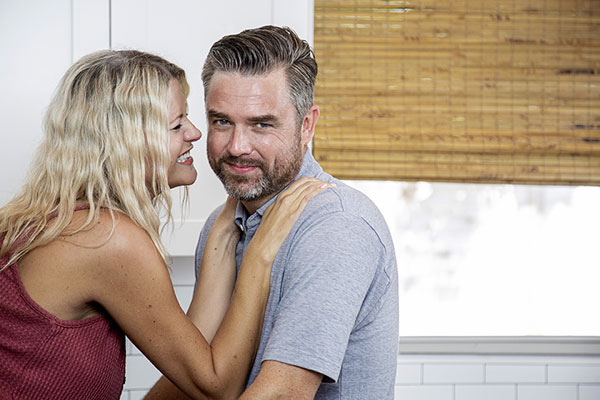 Your sex might have changed
Tip #3: Be careful not to add unnecessary pressure on your partner. If it's been a while since you've had sex, go slow.Ease into this new chapter of being alone at home, and treat your empty nest as an opportunity to re-discover what your partner likes, or what might have changed.
It's possible that what you previously enjoyed about sex has shifted. Our sexual preferences can change as we get older, and all this extra space can provide the opportunity (and time) to explore what these new sexual preferences may be. Ask yourself what you're into now that you're older. Of course, ask your partner also. It could be that there's a fantasy or turn-on that they haven't shared with you, too.
With old age also comes the risk of health-related obstacles to a happy and healthy sex life, like high blood pressure and erectile dysfunction.
Giddycan help with empty nest syndrome and ED
Erectile dysfunction, or ED, is the inability to maintain an erection firm enough for sex. ED is very common, especially in older men, and is treatable with Giddy. Giddy is an FDA-registered medical device developed specifically to treat ED. Giddy's a convenient, comfortable, wearable device that doesn't produce any of the negative side effects from ED drugs, and if used correctly, Giddy will help men achieve and maintain erections.
When you have the house to yourself, the last thing you want is a complication like ED getting in the way of pleasing your partner, and enjoying those intimate moments. Using Giddy can help reverse ED symptoms and put the focus back on enjoying the freedom of an empty nest, and all the benefits it has on your relationship.
If you or your partner is struggling with ED, learn more about how to treat it using Giddy and our 30-day ED treatment program.