If you're a man over the age of 40, you're the prime market for hundreds of erectile dysfunction advertisements; tv commercials, online ads, junk emails, and magazine spreads for medication after medication. It's a lot to take in, and it may leave you wondering if you're experiencing erectile dysfunction symptoms or ED. It's not a stretch, seeing as the media makes it seem like every man in every household across the world has ED.
The truth is, ED is increasingly prevalent with age. 40% of men are affected at age 40, and nearly 70% of men are affected at age 70. However, every man is different. It's possible that you may not be experiencing ED, but rather erectile dissatisfaction.
What is erectile dysfunction?
Erectile dysfunction, once more commonly referred to as impotence, is the inability to achieve or maintain an erection firm enough for sex or masturbation.
What is erectile dissatisfaction?
If you can achieve an erection while masturbating, you probably don't have ED, but erectile dissatisfaction. As you get older, obviously your body will change, and that includes your erections.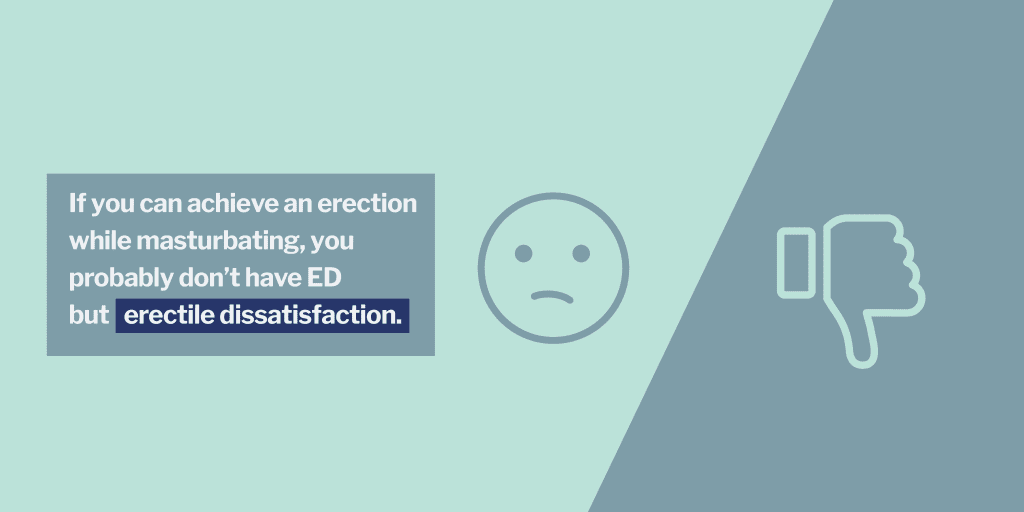 Erectile dissatisfaction occurs while comparing your current erection to that of your younger self, and feeling like your erection isn't quite what it once was. You could notice your erection isn't as firm or that it doesn't rise as quickly as it used to. You may notice that even the slightest distractions can cause wilting. Whereas before, you could achieve an erection far quicker and easier; even at the mere thought of someone attractive. It's important to remember this is a normal, natural change in your body with older age.
What can you do to treat erectile dissatisfaction?
Whether it's ED or erectile dissatisfaction, it's not the end of the world. The good news is that you live in a time of proven medical devices that can treat both erectile dysfunction and erectile dissatisfaction, and greatly improve your sex life.
At Giddy, we've created a patented, wearable medical device developed by urologists, engineers, and sex experts that is specifically designed for men experiencing ED or erectile dissatisfaction. Giddy can be worn safely through any stage of an erection; from flaccid to erect, and is an affordable, body-safe alternative to ED pills, pumps, and outdated constriction devices.
It's true that changes to your erections are inevitable. Remember; it's normal. Try to minimize your anxiety and external stress factors since these can have real effects on your psychological and physiological health and, in turn, your erections. You may be getting older but your sex life can still be as satisfying as ever. Communicate with your partner. Take your time kissing, cuddling, and use Giddy for a fast-acting, noticeable difference in your sex life.
Legal Disclaimer: We appreciate you taking part in the discussion about sexual health and wellness. Because we include information about medical conditions and treatments, please note the following: Information provided on this site is for general informational purposes only. Any information provided here is not for the purpose of diagnosing, treating, curing, mitigating, or preventing any type of disease or medical condition. Before beginning any type of treatment regimen you should always seek the advice of your licensed healthcare professional.
And remember, if you think you have a medical emergency, call your doctor or 911 immediately.
All information on this site is provided in good-faith, however, Giddy Holdings, Inc, and its agents and employees, make no representation or warranty of any kind, express or implied, regarding the accuracy, reliability, or completeness of this content. Under no circumstances shall we assume any liability to you for any loss or damage of any kind incurred as a result of the use of this site, or the reliance on any information provided herein. Any application of the material provided here is at the reader's sole discretion and responsibility.